Welcome to the world of Machine Learning
At 48hours.ai we are passionate about Machine Learning and AI. Our data engineers help you to gain valuable insights into the behaviour of your customers, the performance of your products and the evolution of your markets. Tap into sophisticated machine learning models to prepare your business for the future.
Do you need to crunch data but don't have any programming experience?
Let us do the data crunching for you. All you need to do is upload your data. Our experienced data scientists use mathematical and statistical modelling to simplify your data set and make predictions about key area in your business. Within 48&nbsphours you receive a report ready for your perusal and analysis.
Gain new insights into your data sets or impress your manager with professional reports.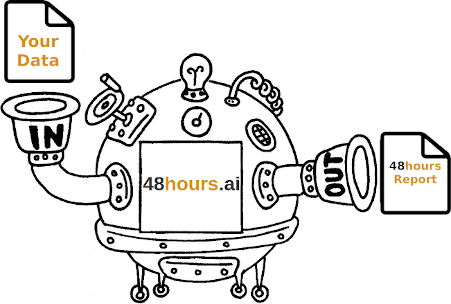 Give us a call to find out how we can help you: +27(0)78 022 8067. Or email us on: info@48hours.ai.